Before I left for Madrid, my dad said that I should take touristy pictures first because once you've become acclimated to a place you forget what things are picture worthy and what things aren't. For instance, now that I've walked down Gran Via countless times I forget to look up at the Belle Epoca architecture right above me. 
I think (if anyone cares at this point) I'm going to hang my hat up for a while. It isn't that I have no stories left to tell, in fact, I'm quite eager to share about my weekend in Paris as it was one of the best, most magical weekends of my life. What I'm saying is that I think the amazing things that are still happening to me are failing to register in terms of posting them on a blog. 
So bye for now. I'll post again before I leave :)
Well I'll be damned… Making that place-holder post set me back way more than I ever dreamed. It has been weeks since I've posted. My readership must number 0 because I'm sure you all died holding your breath for my next posts, which never came.
Allow me for a moment (seriously, if anyone is still reading) to give a few explanations. The first is that my family joined me here in Madrid for nearly 10 days. It was truly incredible. At first I was nervous for them to come because I thought that it would make me homesick or somehow detract from my experience but what I actually think it did was enlighten my experience even more. I say this because much like the function that this blog serves, I was forced to categorize and process my experiences so I could share things with them that mean a lot to me. In a way, I really had to consider what sights/activities/experiences have become most important to me in Madrid so I could show them to the most important people in my life. What I discovered was that among language, the social culture, the food, the drinking, the architecture, the art and my friends here in Spain I have really grown to love a lot, which brings me to my second excuse.
Much of my time recently has been spent doing a lot of soul-searching, that is attempting to decide whether or not I'm going to stay here for another semester. While indeed the reasons to stay piled up while my family was here I have ultimately decided to go back to Wesleyan. And this decision has pained me far more than I thought it would. Not only have I really begun to realize all of the cherished things I'll be leaving behind but I've now fully realized that my days are numbered here in Spain. For this reason, I have really been trying to make sure that these final few weeks are filled with quality. I've been trying to meet more people, hit up more museums (one of them being the Yves San Laurent museum which was awesome, which I couldn't find for the longest time because no one in Spain understood my impeccable French accent), and learn more about this country. 
Quick hedonist bit: Last night some of us went to a club called Sala Heineken which on Saturdays sponsors the party Zoológico. It's my new favorite place in Madrid, so if you ever swing by you absolutely have to go. It's a magical place full of hipsters and alternative people with nasty piercings and abundant tattoos, a sound system that still has left my ears ringing, and a club policy that apparently makes it OK to smoke inside and smash your glass cups on the ground. While I didn't partake in either of those last two activities I did mosh for the first time in my life and watched my dear friend (a five-foot tall girl with ganas to work in the fashion industry) punch some dude in the face. ¡Vaya! I'll be back.
*Los Tres Hermanos Reyes
They say that the first post that serves as a placeholder while you "take control of your busy life" is the first post that marks the downfall of activity on your travel blog. Or maybe I just made that up. The point is, I realize that my last post was not about Spain but was really my plug for what I think is a dire need to revolutionize the way we see sex, gender, and the roles that they destine us to fulfill. Before and since that non-sequitur post, however, there has been a lull of activity concerning my adventures abroad. 
Right now I'm swimming in work. While trying to plan a small get together for my 2nd year anniversary of "coming out" I'm also writing an essay on empresas de inserción in Spain, constructing a curriculum for my independent study on sexuality, interviewing immigrants for my final project on domestic labor in my gender class, preparing small itineraries to keep my family entertained while they are here this week (so excited but #whereisauntkaren) and - I think I'm ready to publicly admit - weighing heavily and seriously whether or not I'm going to extend my studies in Spain for another semester.
Here is a brief list of some other fun things going on in my life:
I can finally understand 100% movies in Spanish sin subtítulos. This means I'm watching lots of great films. Right now La Mala Educación is serving as a formidable distraction for my aforementioned homework. I also have Y Tú Mama También and Todo Sobre Mi Madre on the list #gayspanishspeakerproblemsabroad? no, that one's is too long
In less than 3 weeks I will have seen Freddy Knuckles, Erykah Badu, El Guincho, and MF Doom live in concert somewhere in Madrid
My family is coming! I know I already said it but it's worth repeating
Finally making some Spanish friends. It's too soon to say whether or not they will be long lasting BUT I am friends with them on Facebook, which counts for something and have hung out with them a few times
I've moved away from the thighs and ass of the pig and now am onto the back. I mean to say, way less ham and way more chops #yum
* By the way I labeled this "Pt. 1" because I'm sure I'll be needing to use one of these placeholder posts again very soon.
*Me photographing the Atlantic from the torre in Cádiz. So so so beautiful.
I should really be in bed. I have an independent study tomorrow on sexuality with a professor who is publishing a book on depictions of masculinity in modern film (!). I'm supposed to be making a powerpoint on something due sometime for our next meeting which will be somewhere…
I want to post quickly, not only to have a medium with which I can procrastinate but also to hopefully capture a feeling I'm getting as opposed to the usual reposting of the happenings (the haps). 
I'm not sure exactly how long I've been here. I've been trying to avoid paying attention to that sort of thing as it is already scaring me that in the park today there was a brisk autumn wind, the leaves have begun to change, and there was the distinct smell of changing seasons (you all know what I'm talking about). Usually I would enjoy the palpable signs of the coming fall but in a way it represents the fact that half of my trip may very well be over. It is at this halfway point that I want to reflect on how I'm feeling. 
On the flight over here I was incredibly anxious. Grabbing a mini-bottle of red wine on the plane was about all I could do to keep myself from having a "what the hell have I done" moment. However, by the end of my wonderful stay in Santiago (I know I still haven't written anything about this yet) I had become completely enamored with the culture, the people, the language and the experiences that this country has to offer.
There is talk amongst abroad students of what many of us call a "honeymoon phase." This generally rationalizes states of pure joy, desires to stay extra semesters, and feelings of wanting to move back someday. Now, after the plane ride, after Santiago, and after the leaves have changed in Retiro I still wonder when I will leave the "honeymoon phase." I think I mean to say, at risk of sounding incredibly silly, that after 2 months abroad I feel different and I like the changes :)
*Retiro in the fall. It didn't look quite like this today (or at all really) but the drama of this photo is just too good. Per usual, photo credit does not go to me.
There a some things in this world that people refuse to compromise on. For some it's religion, for others it's education. The list might continue with health care, human rights, burgers from Shake Shack or burgers from In 'n' Out, books that shouldn't be turned into movies (anything by Nicholas Sparks, but this has less to do with artistic integrity and more to do with common good), movies that shouldn't be turned into books (Star Wars) or #thistimeforspain the way my mom makes gazpacho.
I, however, am a simple man and have only one thing on which I won't compromise. This TV show: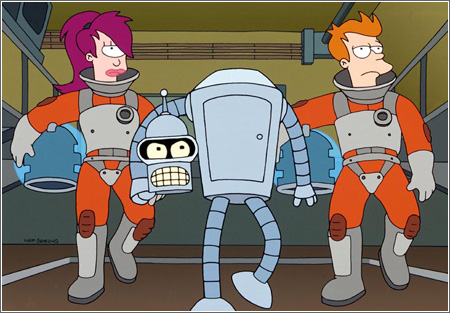 If you don't recognize the characters Leela (left), Fry (right) and headless Bender, then you don't know that I'm referring to Futurama, you don't know what the best show in the world is. Here in Spain, they dub my show and the voices of Futurama are not to be tampered with. Interestingly enough, Matt Groening's less important TV show, The Simpsons, is nearly perfect. Seriously, I don't know how they do it but every voice sounds exactly the same. (My host grandma assures me that there is a really big market for voice acting here and that sometimes voice actors are even more famous than "real" actors #onemorereasontomove?) Unfortunately, my two favorite voices, Bender and the Professor (not pictured) are completely lost in translation. 
Here are some other things that get lost in translation. Most of these are easily confusable Spanish words that have grave consequences when mixed up, all of which have been said on this trip, mostly by me:
A giraffe of Sangria instead of a carafe
A breeze to Spain instead of a toast
I have a man instead of I'm hungry
I have to drink a piss instead of I have to take a piss
Here's a really hard one: cajones which means drawers and cojones which means balls. You can probably imagine just how sexual the conversation can get when cleaning up the kitchen or putting away laundry
Orange juice without octopuses instead of without pulp
Allow me to put myself inside of you instead of introduce myself to you (not quite as inappropriate in Spanish as it sounds when translated but still doesn't make any sense)
When I was conceived instead of my conceptualization was